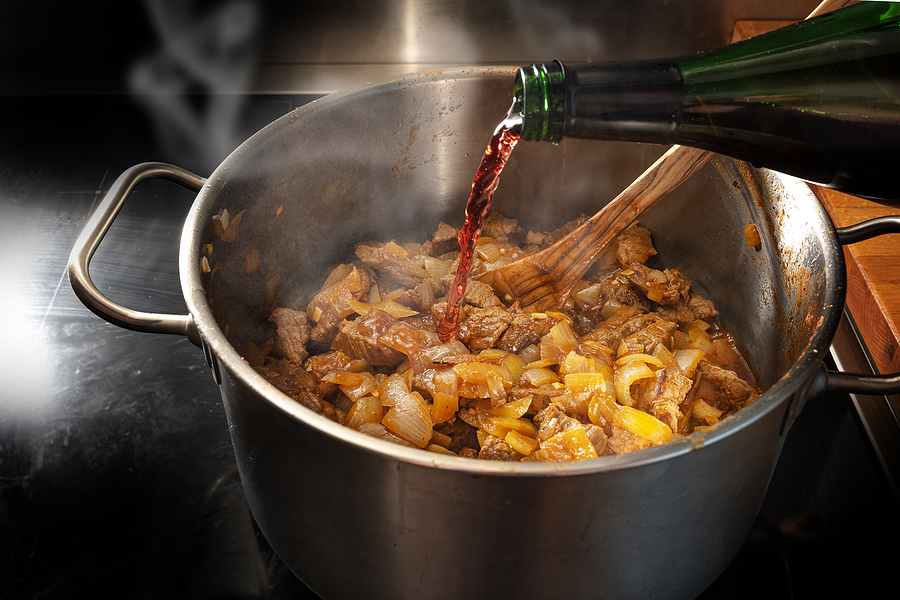 Cooking with wine has been a process for hundreds of years. The function of wine in cooking is to intensify, enhance the flavor, and the aroma of food not to conceal them. Wine should not be added to a dish just before serving;  it should simmer with the food, or any dish sauce.  Knowing which style of wines go with specific dishes is important. Dishes with lemon or light flavor might go well with Sauvignon Blanc, while a red mushroom heavy dish would pair well with a Pinot Noir. Knowing how each varietal pair with food will make you a wonderful chef right in your own kitchen.
Finding the right Acidity in grapes to enhance the dish is very important.  Selecting the wine that has the right Tannins is essential to get the right taste. Tannins come from the grape's skins, stems, and seeds. Thick-skinned grapes, like Cabernet Sauvignon, produce more tannic wines than thinner-skinned varietals like Pinot Noir.  Red wines have more tannins than whites but by picking a good tannic wine you can enhance any red sauces to compliment any red meat such as Lamb, Steaks, Ribs, etc.
In our showcase Chinese 5 Spice Short Rib dish, we used one of Mid-state's award-winning cabernet sauvignon wine from Arra Vineyards, South Africa.  This wine has a ton of bold aromatic style and great tannins to make our red wine demi glaze sauce.  The wine combined well to thicken up the sauce and served on top of our ginger parsnip puree.  Fantastic for any occasion and steakhouse right in your own Kitchen.